PRESENTATION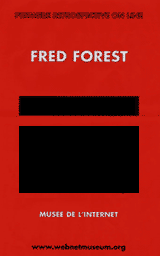 The WEB NET MUSEUM is a dynamic museum with international vocation, of strictly private nature. It is intended to replace more traditional institutions to introduce and support artists, works, experiments and events, in connection with the new digital culture.
> Honorary presidents :
Vinton Cerf, USA.
Jean-Michel Billaut, France.
> Artist founder :
Fred Forest (http://www.fredforest.org)

> Curator :
Louis-José Lestocart, cinéma and art critic.
> Correspondant North America :
Michaël F. Leruth, Associate Professor, French, The Department of Modern Languages and Literatures, The College of William and Mary, Williamsburg, Virginia.
> Corrections and translations :
Jean-Luc Bastin (http://site.voila.fr/correctjlb/)
> Scientific committee :
Annick Bureaud, critical of art, art nouveau technologies, Art-Press, France
Pierre Cornette de Saint Cyr, appraiser, France
Mario Costa, theorist and critical of art, Italy
Pierre Lévy, philosophical, Canada
Derrick of Kerckhove, Directeur of Marshall Mc Luhan Program, Canada
Pierre Moeglin, sociologist in Sciences of Information, France
Pierre Restany†, critical of art, France
> Contact :
press@webnetmuseum.org