PRESENTATION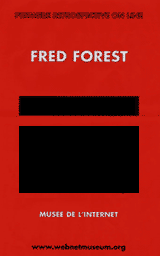 Le WEB NET MUSEUM est un musée dynamique à vocation internationale, de nature strictement privée. Il est destiné à se substituer à des institutions plus traditionnelles pour présenter et soutenir des artistes, des oeuvres, des expériences et des événements, en rapport avec la nouvelle culture numérique.
> Présidents d'honneur :
Vinton Cerf, USA.
Jean-Michel Billaut, France.
> Artiste fondateur :
Fred Forest (www.fredforest.org)

> Curator :
Louis-José Lestocart, critique d'art et de cinéma
> Correspondant Amérique du Nord :
Michaël F. Leruth, Associate Professor, French, The Department of Modern Languages and Literatures, The College of William and Mary, Williamsburg, Virginia.
> Corrections et traductions :
Jean-Luc Bastin (http://site.voila.fr/correctjlb/)
> Comité scientifique :
Annick Bureaud, critique d'art, art nouvelles technologies, Art-Press, France
Pierre Cornette de Saint Cyr, commissaire-priseur, France
Mario Costa, théoricien et critique d'art, Italie
Pierre Lévy, philosophe, Canada
Derrick de Kerckhove, Directeur du Marshall Mc Luhan Program, Canada
Pierre Moeglin, sociologue en sciences de l'information, France
Pierre Restany†, critique d'art, France

>
Contact :
press@webnetmuseum.org